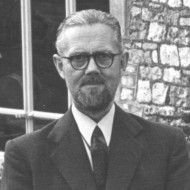 Principia Cybernetica has selected Ashby's "Introduction to Cybernetics" as a classic book that deserved to be published again electronically. The original version has been out of print for many years. A few copies may still be found in libraries or ordered through the

Amazon bookshop. However, we believe that the book is so important that it should reach an as wide audience as possible. The best medium to achieve that seemed to be the world-wide web. This publication has been made possible largely through Mick Ashby, the author's grandson, who has convinced the copyright holders (the Ashby estate) that they should allow us to produce an electronic version.

W. Ross Ashby is one of the founding fathers of both cybernetics and systems theory. He developed such fundamental ideas as the homeostat, the law of requisite variety, the principle of self-organization, and the principle of regulatory models. Many of these insights were already proposed in the 1940's and 1950's, long before the presently propular "complex adaptive systems" approach arrived at very similar conclusions. Whereas the concepts surrounding the complexity movement are often complicated and confused, Ashby's ideas are surprisingly clear and simple, yet deep and universal.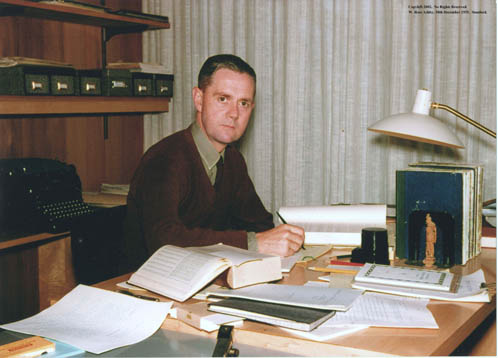 Photo: W.R. Ashby, dec. 1955, Stanford (Copyleft. 2002. No Rights Reserved)
This elegance of thought is illustrated in particular by the present book, which is still the only real textbook on cybernetics (and, one might add, system theory). It explains the basic principles with concrete examples, elementary mathematics and exercises for the reader. It does not require any mathematics beyond the basic high school level. Although simple, the book formulates principles at a high level of abstraction. For more concrete and extensive illustrations of systems principles, you may refer to our other electronic books, "The Macroscope" and "The Phenomenon of Science". For a similar abstract, high-level, but technically simple approach, this time to physics, you can check "Representation and Change".
The electronic version of Ashby's book has been formatted as a PDF file (1.9 Mb), with two pages of the original book per printed A4 page. This format, although it can be read on-screen, is basically meant for printing out. The print-out will be similar to the original book, including the original figures, formulas, answers to exercises, table of contents and index. You can read or print it with the

free PDF reader from Adobe.
Table of Contents
1: WHAT IS NEW
The peculiarities of cybernetics
The uses of cybernetics

PART ONE: MECHANISM
2: CHANGE
Transformation
Repeated change
3: THE DETERMINATE MACHINE
Vectors
4: THE MACHINE WITH INPUT
Coupling systems
Feedback
Independence within a whole
The very large system
5: STABILITY
Disturbance
Equilibrium in part and whole
6: THE BLACK BOX
Isomorphic machines
Homomorphic machines
The very large Box
The incompletely observable Box

PART TWO: VARIETY
7: QUANTITY OF VARIETY
Constraint
Importance of constraint
Variety in machines
Transmission from system to system
Transmission through a channel
9: INCESSANT TRANSMISSION
The Markov chain
Entropy
Noise

PART THREE: REGULATION AND CONTROL
10: REGULATION IN BIOLOGICAL SYSTEMS
Survival
11: REQUISITE VARIETY
The law
Control
Some variations
12: THE ERROR-CONTROLLED REGULATOR
The Markovian machine
Markovian regulation
Determinate regulation
The power amplifier
Games and strategies
13: REGULATING THE VERY LARGE SYSTEM
Repetitive disturbance
Designing the regulator
Quantity of selection
Selection and machinery
14: AMPLIFYING REGULATION
What is an amplifier?
Amplification in the brain
Amplifying intelligence

REFERENCES
ANSWERS TO EXERCISES
INDEX